New variables
Let us get back our automobile data:
. sysuse auto
A natural step further in your data management is to create some new variables, and the way to do that is by generate:
. gen gpm = 100/mpg
to see how many gallons a vehicle spends on driving 100 miles.

In general, a variable name in Stata may consist of letters, numbers, and underline character. It cannot contain spaces, colons, dots, or any other special character: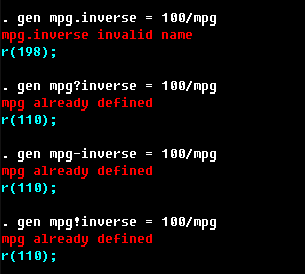 Stata does distinguish upper and lower cases: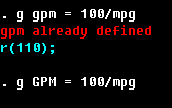 It is usually not a very good idea to create variables with names beginning with an underscore character, as Stata uses such names for its internal purposes. Also, it might be a good idea to develop your own system of naming conventions. This may come easy for some data sets that have very strict naming conventions, and it is easy to build on those. For instance, the data set from DHS have variable names v*, s* (various individual and household characteristics), b* (information on births), m*, h* (medical history of a child), so using names starting with say a (an added variable), d (derived characteristics) or x (what other name can you think of a variable???) would be a strong indication that those variables are not a part of the original data, but something that was created by the researcher.
Do you remember the discussion about accuracy? Well, here it is in action: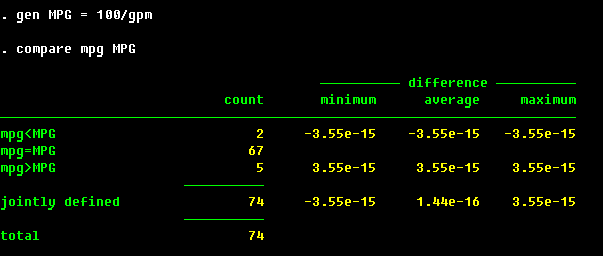 A way around this problem might be to specify the type explicitly:
. gen type newvarname = ...
but it does not turn out to work here: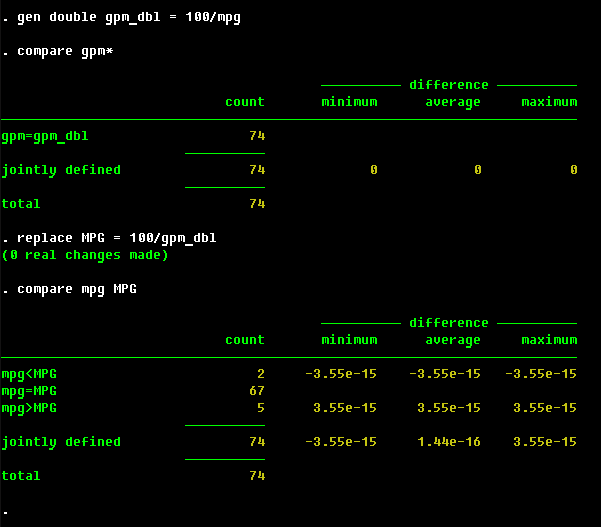 For some of the variables, such as dummy variables, you would want to specify the (more compact) integer format if you know it won't take too many values:
. gen byte domestic = !foreign